Impossible
Impossible is published by Orca in their Soundings series for reluctant readers age 12 and up.
Impossible is included in the Canadian Children's Book Centre's Best Books for Kids & Teens Fall 2018 edition.
Impossible, "a quick yet powerful read",  is a YALSA Quick Pick 2019! #QP2019
Resource Links
 – December 20, 2017
"Impossible is a short novel with high interest and low vocabulary, perfect for reluctant readers in either a literature circle setting or as an independent read. It's compelling characters and linear plot will work well in middle school classrooms and libraries. The reader will empathize with Jemma, maybe even wonder what they would do faced with the same situation. But overall, Jemma has courage, strength and the maturity to realize that every action will have a consequence, and that one must face that consequence no matter what."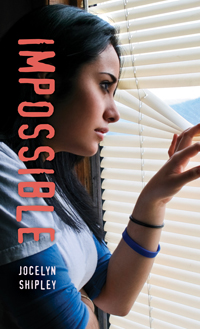 Seventeen-year-old Jemma's older brother took her in when she needed to get away from her abusive ex-boyfriend, Razor. All Jemma wants now is to be a good mom to her baby daughter, Violet. But one night she needs to go out, just for a few minutes, to get diapers and ice cream. On her way back, she witnesses the drive-by shooting of a kid, Kwame, who lives in the same building. The driver is Razor. Jemma is terrified. If she tells anyone what she saw, they'll know she left her baby alone and she might lose custody. But if she doesn't, Kwame's killer will go free. Razor convinces Jemma to make a deal to save her life, but Jemma isn't sure she can live with the consequences.
CM Magazine calls it "a fast read with a storyline that zips along". Read the review here.
Read an author feature on Orca's blog here.
Read a newspaper article about Impossible here.
Read another review here.